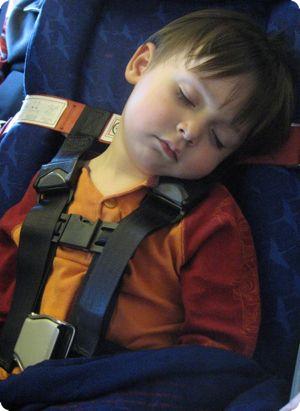 I recently received this question from Shannon who will be using her new:
CARES Harness
onboard a flight to Mexico next month.
Hi Debbie,

We just purchased the CARES system for at trip we're taking to Mexico next month with our two-year-old. Last year, we took him to Hawaii and brought his car seat on the plane, and also used it in our rental car. It worked very well on the plane, and was easy to take through the airport (we used the TravelMate system with it), but a pain to lug down the aisle of the plane (the aisle was too narrow to roll it). This time we don't have a rental car, so we decided to give CARES a try.

My questions are: Have you ever had a problem with airline personnel not accepting it? I contacted our airline, and received an email stating they would accept it, but I'm still a bit nervous... Also, have you ever had a problem with the person sitting behind the seat, since the strap has to go under their stowed tray table?

Thanks!
Shannon
Here is my response:
First of all, have a great trip to Mexico!
Though airline policies vary widely (check out this great DaddyTypes article), I have never had a problem with the airline personnel accepting the CARES harness (though they've asked questions a couple of times). We always bring along the printed documentation for the harness, including the page that shows it is FAA approved. Since you had the foresight to get email from the airline, you sould bring a printed copy of the email as well. If you do get questions from the flight attendants, you'll be well prepared to answer them.
I've never had a problem with the person sitting behind us (possibly they're just glad that they're not sitting in front of a toddler ;) The CARES harness doesn't interfere with the operation of their tray table, so unless they're bothered by having the tray down for a few minutes while you get things set up, there isn't really any reason for them to complain.
With both flight attendants and other passengers, we try to remember that we already have two strikes against us (D & E) when we step on board a plane. We're extra sensitive and extra polite, especially with all the recent news about flight attendants having passengers removed planes for various reasons.
Related Links:
DaddyTypes: Who CARES? The FAA's Car-Seats-On-Planes Policy Is A Total Train Wreck
Amazon: CARES Harness by Kids Fly Safe

DeliciousBaby: Securing Your Child Safely Onboard a Flight
DeliciousBaby: Picture of the Week: CARES Airplane Harness
FAA: USA FAA Infant and Child Restraint Rules

8 comments | Posted on April 7, 2008 |

Save to del.icio.us



Subscribe to our feed