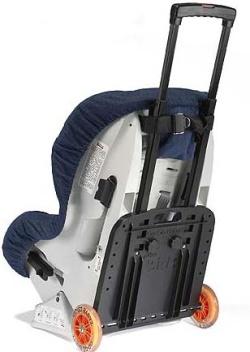 Once you have committed to carrying your car seat through the airport, there are several different ways to do it. This article provides a roundup of the different options, each with it's plusses and minuses.
Our next post in this series will discuss travel car seats, and over the coming weeks we'll be getting evaluation copies of several products, reviewing them in more depth, and then giving them away to our readers. Be sure to check back!
Your Stroller
Lots of people recommend putting your car seats in your stroller (if you're clever and have a bungee cord, you might even be able to get two in there). This is obviously the cheapest solution, and doesn't leave you with anything extra to store when you return home, but only works if you have a child small enough to ride in a sling or big enough to walk.
Luggage Cart
Luggage Carts used to be a popular way to carry car seats to the gate, but not all airports allow them after security anymore, so if your plan is to use a luggage cart, make sure that you have an alternative way to carry everything.
Traveling Toddler: Attach a Car Seat to a Rolling Carryon

Cost: $29.99
The Traveling Toddler is a set of straps that let you attach one car seat to a rolling suitcase. Your child can sit in the car seat as if it were a stroller. Because this product is a set of straps, it is easy to store when not in use. Make sure that your rolling suitcase is sturdy and in good condition as hauling around the seat and the toddler will definately put some strain on the handle and frame.
GoGo Kidz Travelmate

Cost: List $89.00 on sale for $79.00 at Amazon.
The GoGo Kidz Travelmate attaches to your car seat and makes it into a rolling stroller. Your child can sit in the seat as you go! With some bungee cord and a little creativity you can probably rig the Travelmate up to carry more than one car seat (but no child). Note that the Travelmate must be removed before the car seat is installed in a car.
Cheeky Monkey Backpack

Cost: $39.95
The Cheeky Monkey Backpack is essentially a full backpack harness that attaches to your car seat. It includes a padded waist strap and lumbar support to keep you comfortable. This seems like a great way to keep your hands free (so that you can, for example, push a stroller). This system does not include a cover, so it isn't meant to protect the car seat if you check it.
Car Seat Cover, Backpack, and Wheelie

Cost: $29.99 and up
Several different companies make car seat covers that have both backpack straps and wheels. This is a nice option if you want to store other items in the bag with your car seat, or if you need to gate check it. You might want to experiement a bit (or read reviews) to determine which fits your car seat best. Also, some car seat manufacturers make special covers that fit their seats snugly.
Read the other posts in this series:
Part I: Which Babies, Toddlers and Kids Need a Car Seat Onboard A Plane
Part II: Checking, Renting and Carrying on a Car Seat When Flying
Part IV: Travel Car Seat (Product Reviews)
Related Links
DeliciousBaby: Flying With Babies, Toddlers and Kids
Traveling Toddler: Attach a Car Seat to a Rolling Carryon

GoGo Kidz Travelmate

Cheeky Monkey Backpack

Car Seat Cover, Backpack, and Wheelie
1 comment | Posted on February 29, 2008 |

Save to del.icio.us



Subscribe to our feed