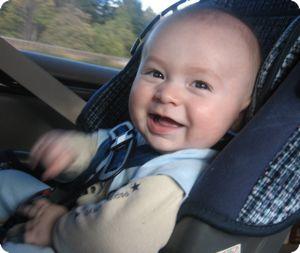 This is the fourth, and final article in our series on air travel with a car seat. In the third article in this series, we reviewed different
ways to carry your own car seat through the airport
. If you prefer to leave your own car seat safely installed in your car, or need a flexible car seat for a second car that also doubles as a travel car seat, this article provides an overview of the different products available.
In the coming weeks, we'll be reviewing a few of these products in more depth and then giving them away to our readers. Be sure to check back!
Sit 'n' Stroll

Cost: $259.95
The Sit 'n' Stroll is probably the most popular travel car seat option. It is essentially a car seat with a built in handle and wheels so that you can also use it as a stroller. It is approved for use on airplanes, and on some planes, you'll be able to wheel it right down the aisle. The Sit 'n' Stroll is a great option if you need to get in and out of cabs a lot at your destination. It's a bit less great if you will have a rental car at your destination because you need to re-install the seat each time you put the child in it, but still workable. The stroller feature is good for airports and city streets, but not designed for rougher terrain. The Sit 'n' Stroll fits newborns (and can be installed rear facing) up to 40 pounds.

RideSafer Travel Vest

Cost: $170. On sale for $99 at Amazon

The RideSafer Travel Vest is a unique car "seat" for booster seat aged kids (it fits kids approx 3-9 years old). Instead of a heavy seat, kids wear a supportive vest which then gets buckled into the car. The vest is lightweight and compact (perfect for stowing in a suitcase) and works with both latch and shoulder harness seatbelts. The vest is not approved for use on airplanes. This would be a great choice for parents who carpool or for use in a second car or for travel with an older child who does not need a car seat on the airplane. The RideSafer it's only approved for use in the US (like most car seats available in this country), and it seems like an especially great choice for parents visiting developing countries who want a child restraint, but cannot carry a whole car seat.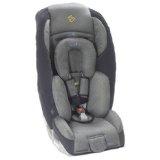 Sunshine Kids Radian Car Seat

Cost: $279.00
The Radian Car Seat is intended to be a primary car seat that also travels well. It is narrower than most car seats (making it a popular choice for three across installations) The Radian also folds flat for travel, and the company sells a special carry bag (or shoulder strap) for travel. I have also seen parents strap this car seat onto the back of a stroller (possible because of the flat-fold). There are two models, one that accommodates birth to 60 pounds, and another that accommodates children up to 80 pounds. This is a good choice if you want your daily use car seat to double as a travel car seat.

Safeguard Go Hybrid Booster Seat

Cost: $199
The Safeguard Go Hybrid Booster seat is designed to be very portable, and folds up to store in its own bag. The seat can be used forward facing only and fits children up to 60 pounds. After 60 pounds, it converts to a backless booster for use by children up to 100 pounds. Because this seat requires latch, it cannot be used on an airplane. It would be a great choice for trip where you're not traveling by plane (for example if you are moving around by train) and need a safe car seat for a rental car. It would also be a good choice for a child who is old enough for a booster (and therefore does not need a child-restraint on the plane) but for whom you prefer to use a 5 point harness on the roads. At home it could be used as a primary car seat and would be great for carpools or a second car.
Read the other posts in this series:
Part I: Which Babies, Toddlers and Kids Need a Car Seat Onboard A Plane
Part II: Checking, Renting and Carrying on a Car Seat When Flying
Part III: Airport Car Seat Carriers (Product Reviews)
Related Links:
Flying With Babies, Toddlers and Kids
Favorite Travel Gear and Travel Toys
Sit 'n' Stroll
Sunshine Kids Radian Car Seat
RideSafer Travel Vest
Safeguard Go Hybrid Booster Seat
6 comments | Posted on March 4, 2008 |

Save to del.icio.us



Subscribe to our feed