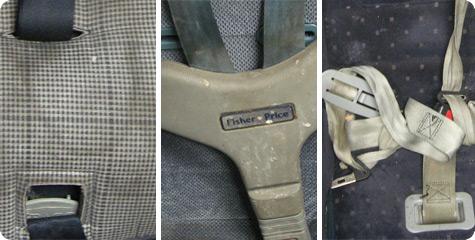 This week, our local ABC station re-ran their coverage of our story about unsafe car seats at Advantage Rent A Car. For those who missed the story, we found car seats that were filthy, broken, and in one case at least 12 years old.
Please avoid renting a car seat when possible. When there is no good alternative to a rental, be very careful to make sure your rented car seat is safe. Few states have laws regulating safety standards for rented car seats, and when they do, rental agencies don't always follow the law.
Since the news coverage ran, I have heard from many parents who had similar experiences at big name-brand rental agencies all over the country. I should note that Advantage has cleaned up their act, but not everyone has, so please plan to bring your own seats or rent with caution.
Here's the link to our original article: Advantage Rent A Car's Unsafe Car Seats

And my safety tips for renting a car seat:
Safety Tips: Car Seats and Air Travel
Checking, Renting, and Carrying a Car Seat When Flying
Have you had a scary experience renting car-seats? Let me know in comments.
3 comments | Posted on June 9, 2008 |

Save to del.icio.us



Subscribe to our feed