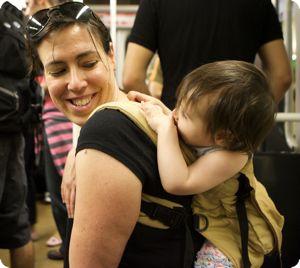 I recently got this great question from Christy who is wondering whether she should bother bringing a stroller with her to Europe or should instead opt for a frame backpack carrier.
We are going to be in Italy (Venice and Siena) for the majority of our trip but will also be taking a cruise with ports of call in Croatia, Turkey, and Greek Isles. My duaghter is 2.5 years and 30 pounds. Should I get an Ergo (I've never tried one but think a neighbor has one that I can try) or a framed backpack carrier? I've traveled a lot in the US with her umbrella stroller but don't know if it's worth it with exploring old cities and ruins. Thanks you, I love your website!
Here is my answer.
Christy,
First of all, have a wonderful trip. Your itinerary sounds fantastic.
This is a tough question. Venice is one of the least stroller friendly cities I can imagine (lots of stairs and bridges) and you would definitely want an alternative carrier there. I don't have first-hand experience with a stroller in the other destinations you mention, so you'll want to do some additional research. The best way to get an idea of how stroller friendly they are is to check the "wheelchair accessibility" section of a guidebook (or google it).
We've used a stroller throughout much of Europe and even on Rome's famously abusive cobblestone streets. If you do bring a stroller, make sure it's sturdy and will hold up for the duration of your trip (our Maclaren Techno
has been a real workhorse!)
We love our Ergo Baby Carrier
and 18 month old D still naps comfortably in it. With a 2.5 year old you might be reaching the limit for comfortable long distance walking. Take a walk around the block with your friend's Ergo and see how you feel or find a shop that will let you try the carrier out.
Frame backpacks are great at supporting heavier children comfortably, but they are also bulkier and can't be stowed in a day bag when not in use (though they often include a backpack where you can keep your other items for the day). One advantage to this type of carrier is that you can remove the backpack without taking the child out. This lets you put on a jacket or sit down in a restaurant, without disturbing a sleeping child. This type of backpack also doubles nicely as a high-chair.
When we're hiking here in Seattle, we use a REI Piggyback carrier. It is a full backpack with a lots of size adjustments for both child and parent. REI also sells an optional sun/rain cover. We've been happy with the comfort and durability of this carrier, and we appreciate that REI stands behind their products if there is a problem. The staff is also happy to let you try out products in the store to make sure you find the one that best meets your needs.
If you're willing to buy something just for travel or perhaps to use around town, theKelty Kids: Convertible Stroller Backpack
looks very useful. It can be used as either a backpack or a stroller. I do not have personal experience with it, but it does have good reviews on amazon
Whatever carrier you buy, make sure your child can sleep comfortably in it. Naptime is your time to see quiet museums, enjoy a nice meal, or just relax.
Good luck!
Debbie
Related Links:
Amazon:
Child Carrier Backpacks
Amazon:
Ergo Baby Carrier
Amazon:
Kelty Kids: Convertible Stroller Backpack
REI:
REI Piggyback
DeliciousBaby:
Packing Lists For Travel With Kids
8 comments | Posted on May 17, 2008 |

Save to del.icio.us



Subscribe to our feed