This is a reader question from Kristen, a mom from Michigan who wants to know how to keep her active son from kicking the seat in front of him.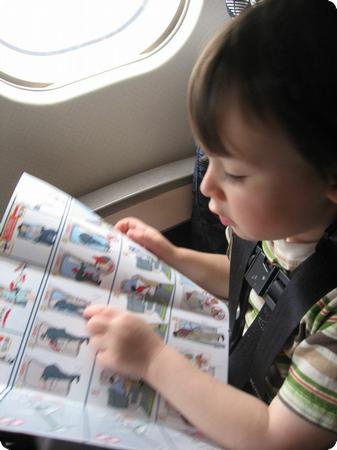 Hi Debbie, my son is about 2.5 yrs old now - we travel twice a year to see grandparents in Florida. The airplane routine is fairly familiar, but we continue to struggle keeping my son (a very active kid) occupied and happy on the plane - he's characterized by good behavior, but just cant stand sitting still for longer than an hour on a plane.

We used a car seat but found that his feet touched the seat back in front of him, resulting in kicking/pushing on the back of the passenger (embarrassing!). So then we purchased CARES over a year ago because his feet wouldnt touch the seat in front, but we only used it once because my son seemed too short for it and it irritated his head/neck area which caused more fussing. In addition, it just seemed that the airplane seats are too concave and push his head forward (even I find the same discomfort because Im only 5' 2").

Here we are hoping that we can try CARES again on our upcoming trip in a few weeks, and hopefully my son will be tall enough to be more comfortable? If not, what is the protocol for taking the child out of the CARES harness during flight so he can get more comfortable? When he was in his car seat we never allowed him to get unbuckled. Our flight to Fla is during the day, so I dont expect him to sleep, but the flight home is always after his bedtime and I want him to fall asleep. With the car seat he was reclined a little (so after he was done kicking the passenger in front of him he would finally fall asleep), but with CARES he wont be reclined - unless I put his seat back a little? If I take him out of the CARES harness to lay in my lap, is that a violation of FAA code? Any advice/thoughts you have are helpful

Thanks! Kristin from Michigan
Kristen,
It can be difficult for even the most well behaved child (or adult) to sit still for several hours. Here are some ideas that might help:
Schedule some time at a playground on the morning of your flight. If that's not possible, arrive early at the airport and find an empty gate and encourage your son to run.
Because he is young, your son might be able to sit "criss-cross applesauce" in the seat" (which would help with the kicking)
Give your son milk and a protein rich (not sugary) snack as the plane takes off. The chewing and sipping will help with his ears and both the milk and the protein will help make him drowsy.
If you think your son is tired enough to sleep, try some of our tips for Helping Your Baby or Child Sleep on a Plane
Pack an Airplane Busy Bag filled with new activities (and old favorites) for the plane.
At the first sign of the jiggles, take your son out of his seat and let him go for a walk, that way he'll use some of his excess energy before he has a chance to discover seat kicking, and you'll get to hold off on the reprimands a little bit longer.
You also asked about the CARES harness
With respect to the CARES and seat belts. Yes, hopefully the belt will fit better now that he is older, and there is no reason not to recline the seat once the plane is in flight.
The rules for keeping a child buckled in on a plane are the same as for an adult. You are always safest when you are in your own seat with your seatbelt buckled - and that advice goes double for children who are more lighter and more likely to be jolted by turbulence. That said, there is no requirement that your child use a five point harness in flight. Legally, you can remove the cares harness and use just the lap belt (but just as in a car, a 5 point harness is safer than a lap belt). It is also legally ok for the child to have their seatbelt off whenever the seatbelt light is turned off.
This is one of those times when you have to use your best judgment as a parent. On a calm flight, I often let D sit on my lap. When she's sleepy, she hides her eyes in my shoulder, or I cover her up with a blanket. Once she has drifted off to sleep, I transfer her back into her own seat, buckle her in, and place a pillow under her head. She thinks it is a huge treat to fall asleep in my arms, and she's much less fidgety than if I tried to have her fall asleep in her seat. E, in contrast, is perfectly happy to fall asleep in his own seat just like he does in the car.
Good Luck!
Related Links
Helping Your Baby, Toddler or Child Sleep on a Plane
Tips for Flying with Babies, Toddlers and Kids
Keeping a Toddler Busy on a Plane
Amazon: CARES Child Aviation Restraint System
17 comments | Posted on February 19, 2009 |

Save to del.icio.us



Subscribe to our feed