After 5 days at Aulani Resort, Disney's new Hotel on Oahu, with Eilan (now just over 2 years old), here are my best tips for enjoying Aulani with a toddler.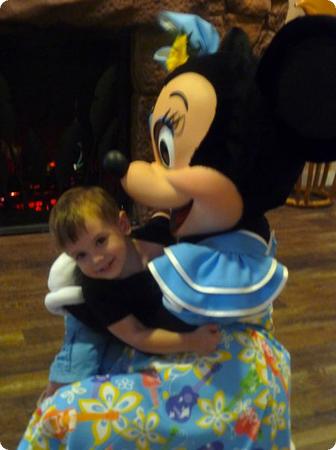 Overview
My son loved exploring the resort grounds, splashing in the pools and running his fingers through the sand. For most toddlers, those activities will be your mainstay, and character meetings would be a highlight. Though there aren't many activities targeted specifically at babies or toddlers, they are welcome to join in on activities designed for older kids. Dance parties and storytimes work particularly well. The Aulani Resort's compact layout makes easy to navigate even with a tired toddler, and of course every aspect of the resort is stroller friendly (not counting the sandy beach of course!). If you want to enjoy a special dinner or time at the spa, be sure to arrange babysitting well in advance.
What To Do With a Toddler at Aulani Resort

Stare Starry Eyed the Fish at Rainbow Reef A week after returning from Aulani, Eilan is still talking telling everyone "I watch fishies" when they ask about Hawaii. Rainbow reef is Aulani's man-made reef (filled with continuously recirculated ocean water and oodles of tropical fish). Older kids can snorkel here without fear of waves, and with lifeguards standing by. If you want to look without getting wet, there's a cozy little cave area, complete with bench seating, where your toddler might just stay mesmerized for a half an hour. If you have an early riser, the 8am fish feedings are an especially great time to check out rainbow reef.

Visit Auntie's Beach House: Though only kids age 3+ who are potty trained can stay be dropped off at Auntie's, any child is welcome to visit as long as a parent stays with him or her. The environment here is calming - it's like your relaxed Auntie's house where you can play and have fun - and a little magical. You never know who might show up for a visit, there's an enchanted fireplace, windows that rain even when it's sunny outside, and an enchanted fireplace. There's not much for a crawlers to do here, but for toddlers, there's a kitchen, coloring sheets, dress up clothes, and many toys. Auntie's beach house is a great place to duck in when the sun gets too hot or you just need a little down time. There's are several rooms just for little kids, but when Auntie's isn't busy, the little guys can roam through Auntie's entire beach cottage and into the big kids areas.

Run and Splash Under the Menehune Bridge
Eilan never did get comfortable enough with the running, splashing water to venture up on the bridge (and he might have been trampled by bigger kids if he had), but he loved the zero-entry pool underneath the Menehune Bridge. The water here never got deeper than his waist, making it easy for him to run and splash without ever risking going too deep.

Dig in The Sand Aulani's man made lagoon has plenty of space and nice white sand. Bring your own sand toys or buy them across the street at the ABC store. Umbrellas can be rented for $20/day The lagoon waters are calm enough for even a young toddler to wade in, and life jackets are available poolside if your child needs one. The best time for the beach is in the early morning or evening at sunset. The sand won't be so hot, the light colored sand won't reflect as much light, and you'll have the benefit of a little shade!

Dance with Minnie at Disney Junior Aloha Eilan just loved Disney Junior Aloha, a special toddler activity (during our stay it was scheduled on Tuesdays and Thursdays at 7:30 am) at Auntie's Beach House. We started with a dance party, complete with shakers and other musical instruments, did some coloring, and then had a surprise visit from Minnie Mouse. It was so nice for him to cuddle with Minnie without crowds of bigger kids.

Splash in the Main Pool
The Waikolohe Valley Pool has a zero depth entry, making it great for little guys. Life jackets are available poolside if your child needs one. For even more fun, bring along a few cups or other water toys.

Try your hand at Hawaiian crafts and listen to Hawaiian Storytelling in the Pau Hana Room The Pau Hana Room, Aulani's Hawaiian cultural center, is mostly geared towards older kids who can drop in to play a game or learn more about Hawaii, but it's also a quiet spot to enjoy with a toddler. Storytelling may appeal to toddlers who are good lap-sitters, and some though some of the crafts are very advanced (like my picture below of the feather leis that were being made during our visit) others might work well for a toddler with adult help. You never know what might be going on here, and one evening Eilan and I dropped in for an impromptu Ukelele lesson!

Search for Menehune In Hawaiian lore, Menehune are mischievous little people who only come out at night, and who build temples and many of the natural wonders you see around you in Hawaii. You'll find them hidden all over (it's estimated that there are over 300). Many are at toddler height, so you might find that your child can find more than you can!

Float down the Lazy River Eilan is still talking about Aulani's "Bagels." A ride down the lazy river would be an especially lovely way to wind down before bedtime. Though there are no toddler-sized rafts, there are lifejackets, and you can perch your toddler on your lap for a cuddle as you float down the stream. Be aware that there is one area where you are likely to get splashed - if you're winding down before bedtime, or have a child who would be scared by water dumping on him, you might want to get out before you reach that spot.

Cuddle up with a book in the Pau Hana Room The Pau Hana room has a nice selection of Hawaiian children's books so that you can cuddle up for some quiet reading time
Explore the grounds I was surprised at how much Eilan enjoyed just walking around the Aulani grounds. There was so much to see at his eye level, and for him there was a sense that *anything* could be around the next corner. Your child will probably make up his or her own fun, but here's what Eilan loved: Eilan loved searching for circles (that's manhole covers to you and me) and jumping on the metal ones, which make a pleasing clanging sound. Filling up a cup of water (and drinking it) all by himself. Picking up the flowers that had blown down from the trees "to kiss him." The Koi pond and fountains are predictably kid pleasers too.

Get some coloring sheets from the concierge Up at the crack of dawn? Visit the concierge for a few coloring sheets and crayons and then hang out in the lobby and make Mickey all the colors of the rainbow.

Catch an Evening Show
Aulani's evening program, including the Starlight Hui, Movie Nights, and the Sunset Ceremony are designed to be enjoyed by every age group.

Beg stickers from just about anyone You never know who might have a Mickey Mouse sticker to hand out. The bellperson, the cast member holding a door open for you, or even restaurant staff.

Meet a Character Each morning you'll receive a schedule of character meet and greet opportunities for the day. Don't worry about making them all... there will be more tomorrow.

Take in a Movie and Explore The Hidden Experiences in the Aulani Lobby Is your toddler awake before anyone else? The kid-friendly area by the reception desk might be a great place to hang out while you wait for the rest of the family to wake up.

Gorge Yourself at a Character Breakfast There are enough opportunities to meet characters throughout the day, that the intimate size of a character breakfast might not seem as important as it does at Disneyland or Disney World. Still, Eilan enjoyed the dance party, the music, and most of all, the chance to meet Mickey, Minnie and Goofy. The buffet format (with a special kids buffet that included Mickey waffles) made this an easy sit down meal. Even if you're not signed up for a character breakfast, you can still visit Mickey on the plaza in front of the restaurant, just ask a cast member. Note to self: the main problem with character breakfasts is that your child's shirt will be filthy in all those cute pictures. (Extra cost: Adults 32.00 Ages 9 and Under 18.00 Age 2 and under: Free)

Lounge in the Shade I recognize that toddlers are not usually into lying still, but after a busy morning, a little time in the shade and an opportunity to watch bigger kids at play might actually be welcome. There are a few shaded lounge chairs in between the Menehune bridge and the lazy river - an ideal spot for watching the action. Cabanas are also available for rent at additional charge and can be closed up if your child needs to nap. Cabanas also include a safe, refrigerator and TV. On the beach, umbrella rentals are available for $20 per day.

Check out The Spa. Yes, The Spa Learn how to massage your baby in a special whole family treatment at Laniwai, Aulani's spa. In this 25 minute treatment, one parent will be treated to a massage while the other one learns how to relax baby and develop a closer bond through massage. We had a small sampling of this service during our stay, and I was surprised at how willing Eilan was to slow down and enjoy this experience. (extra charge: Mom Dad and Baby 25 minutes $150. 50 minutes $210) Best of all, after your treatment you can leave your toddler with a sitter or parent while you return and enjoy the spa facility a little longer ($45 value)

Play in the Room Though the rooms at Aulani are designed to get you out into the resort, you should be prepared to spend some time here with your toddler. If you're visiting from the mainland, and especially if your child is an early riser at home, be prepared to spend some time in the room, lobby, or on the beach before the pool opens at 7am. Room service begins at 6as does continental breakfast at the 'Olelo Room.

Feed the Fish Bring along some fish food (make sure it's appropriate for tropical fish) and take an early morning walk down to the beach to feed the fish.
Rent A Car There are no Disney-run excursions for toddlers, but there's nothing preventing you from renting a car and exploring the island on your own. The Alamo branch, right in the resort, can rent you a car (rates are significantly lower than airport rates).
But above all, plan lots and lots of time to splash and play in the water or dig in the sand
Related Links
The Littlest Mouse (Part 1: At Home)

Honolulu and Greater Oahu with Kids (City Guide)
Aulani Resort in Pictures (Part 1)
Aulani Resort in Pictures (Part 2)
I was an invited guest on this trip, and Disney paid for most of my expenses, including our hotel stay, most meals, and my airfare. Disney did not request that I express any particular point of view, and my opinions are my own.
6 comments | Posted on October 3, 2011 |

Save to del.icio.us



Subscribe to our feed