For us, the experience of traveling with our kids is not only a great way to help expand our kids' worldview, it is one of our best opportunities to build new bonds as a family. Yet many parents are so afraid that the trip might not be perfect, that they stay home - missing out on countless chances to build unique and lasting family memories. Traveling with kids is never perfect, and rarely easy, but with a little advance planning, you can work around most of those roadblocks.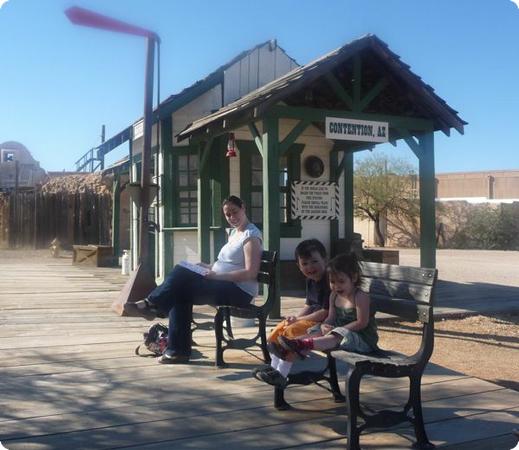 My Kids Won't Appreciate It (or Won't Remember)
Kids may not remember or appreciate the distance and expense associated with visiting a specific destination, but that doesn't mean that you shouldn't go. We do so many things with our children that they won't remember as they get older - from wrapping them in a handmade baby blanket, to the songs we sing as we rock them to sleep. Do we do those things for them or for ourselves? I don't know, but I do know that I treasure the memories and photos of the trips I took with my children when they were babies, toddlers, and now preschoolers. By leaving our busy routine, we also find new activities and interests that we never would have tried at home. Even if we're not learning a language or teaching our kids ancient history, we are helping them develop a broader view of the world, and we are in turn developing a broader view of their interests.
It's Too Far
A long-haul plane flight can seem daunting (and it's never my favorite part of a trip) but there's no need to focus on just this one aspect of the trip. Allow plenty of time at your destination to recover from Jet Lag, and consider breaking up a very long flight with a multi-day stopover. Many airlines will let you stop in their hub (e.g. New York, London or Amsterdam) for a few nights without charging you extra airfare, and this can be a fun way to break up the flight time and see one more part of the world. Here are more tips on surviving long haul plane flights
It's Too Expensive
Times are tough right now, but if you have some expendable income, and want to travel, it is worth looking at the actual costs of the trip you want to take. They may not be as high as you think. The dollar is higher than it has been in years against almost every major currency and there are phenomenal travel deals to be had on everything from airfares to hotels and cruises. For example, British Airways is running flights to Europe for as low as $149 each way and throwing in two nights hotel stay for free!

If you are willing to be creative or to step outside your usual travel routine, you can save even more by swapping homes with another family. Check out some of our other budget tips for family travel or our Step by Step Guide to Creating a Budget for your Family Vacation

My Kids Can't Sit Still on the Plane
Admittedly, anticipation of the plane flight is always the thing that causes me the most stress as we plan each trip. Advance can help make any flight easier. Try to schedule flights at times when your children would normally sleep, and make every effort to wear them out before you step on the plane. Check out our tips for keeping an active child calm on a plane and keeping your child busy on a plane

They Won't Have "Kids Activities" There
Around the world, kids and parents somehow find ways to stay busy even in the absence of major theme parks. What's even better, is that when you join locals at playgrounds, beaches, and other activities, you get to experience the culture in a new way. It may seem tricky at first to find activities near the major tourist destinations, but research before your leave home can uncover some hidden gems. In addition to our Kid Friendly City Guides, you can use Google Maps to find playgrounds near tourist destinations, or find expat bloggers with kids at your destination and send them email for advice. Even when you hit the ground without a plan, you'll find that your kids naturally gravitate towards things that interest them. Allow them the time and space to enjoy details that might seem trivial to you (like a bubble blower in a park or a cookie making machine in a store window) and they'll be much more patient as you maneuver them through the Louvre.
I Can't Carry All the Stuff
As parents, we're conditioned to bring everything our children could conceivably need along with us. It's important to pause for a minute and ask yourself whether you actually need each of the conveniences you use at home. Supplies like diapers and wipes can be purchased at your destination, and baby travel rental companies can provide items like cribs and high chairs when your hotel is unable to supply them. It might surprise you to hear that my family of four routinely travels with no checked baggage for trips under a week long! Even if that's not your goal, you'll find helpful advice in my favorite tips for packing light with babies, toddlers and kids and my Packing Checklists
I Won't Get to Relax
True, but you probably don't get to relax at home either! Vacations are more active with kids, but they still provide a welcome break in routine. You can make a family vacation less taxing by bringing along a friend or relative who is able to babysit some of the time, or by teaching your child to nap in a stroller or sling. You might even choose to travel with a Nanny or Babysitter.
What If Someone Gets Hurt?
Fear that a child will get injured or sick (especially if the child has severe food allergies can be so strong for some parents that they won't leave the country. While nobody wants to see a child injured (at home or abroad) there is no reason to expect that a normally healthy child would require medical attention on vacation.

Reassure yourself by traveling with an emergency contact sheet that includes information for your family doctor and the name and phone number of an English speaking doctor or children's hospital at your destination. It is also helpful to travel with a small first aid kit that includes bandaids and common medication like tylenol along with your child's dosing information.
10 comments | Posted on March 17, 2009 |

Save to del.icio.us



Subscribe to our feed