I've written about Cars Land's Main Street (Route 66) and Mater's Junkyard Jamboree. Today I want to share pictures of and review Luigi's Flying Tires, the ride that most intrigued me when I first heard the details about the new rides that would be in Cars Land.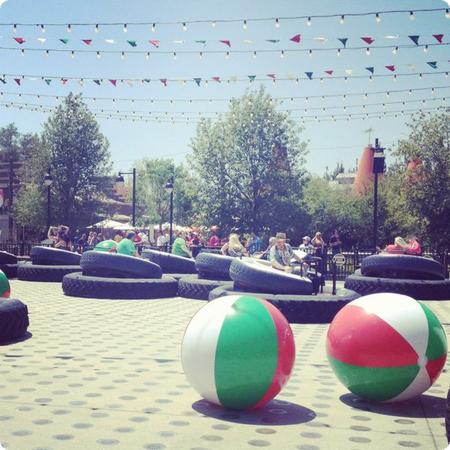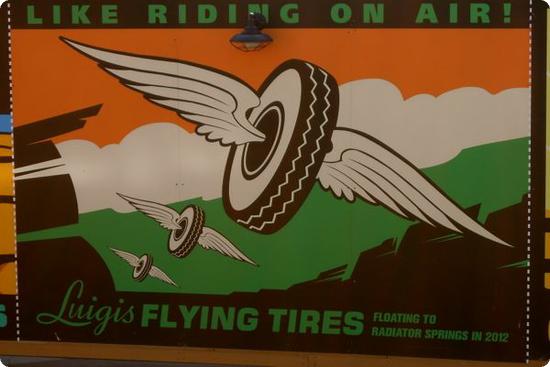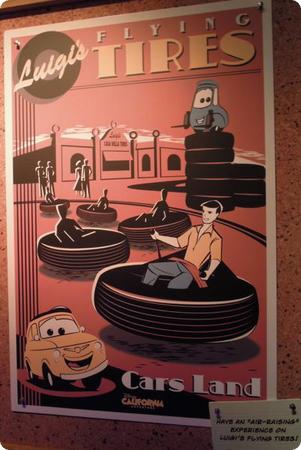 Luigi's Flying Tires is a modern reworking of a 1960's "Flying Saucers" ride in Disneyland's Tomorrowland. Guests rode in flying saucers that hovered over a cushion of air and steered themselves, bumper car style, around the track and into one another. The Flying Saucers ride was around for only a few years, and mechanical difficulties kept it from being successful.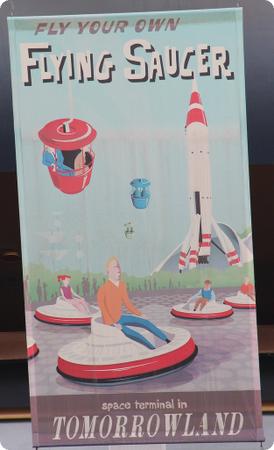 Luigi's Flying Tires, built on the Flying Saucers concept has a fun, carnival like feeling. I loved the energy of the music and the atmosphere with festive banners and giant italian-flag-colored balls bouncing around the ride surface.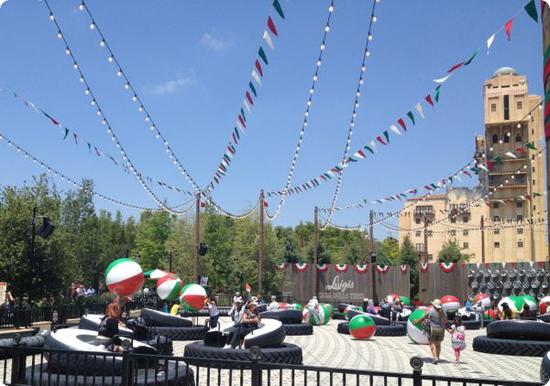 Like the rest of Cars Land, Luigi's Flying Tires Ride is just filled with fun details to check out while you wait in line. My kids thought these tire shaped planters were hilarious, and I loved the tire shaped finals on the iron railing.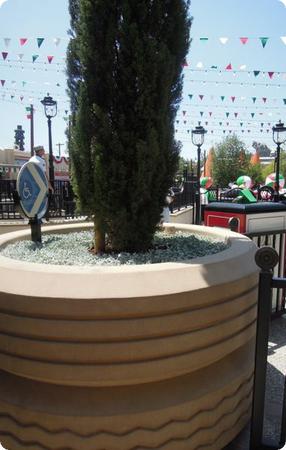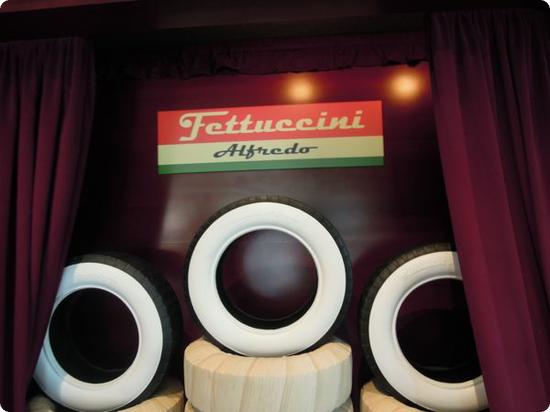 Guests climb into 9-foot-wide Fettuccini-brand tires and settle in as the 6,714 air jets in the ground are activated. Up to three people can sit together in a tire. You'll need to work together to steer your tire by leaning in the direction you would like to go. Balancing the weight in your tire is important, so I sat in the middle with Darya on one side and Eilan on the other.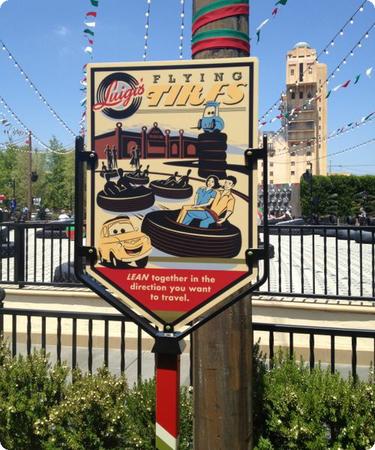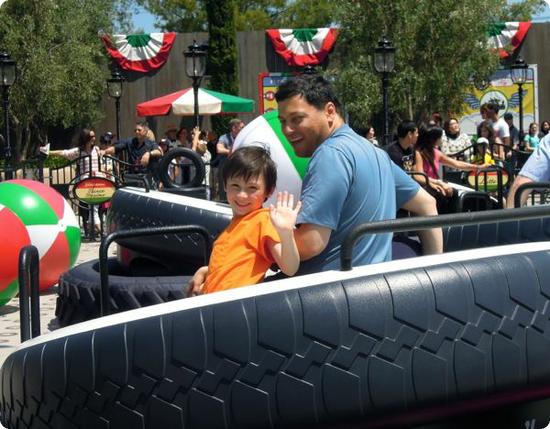 Unfortunately, I found it hard to steer with the kids onboard, and we never really felt like we were in control. The big balls that looked so fun from the outside were hard to catch, though I got bonked on the head or back a few times, so someone must have been catching them!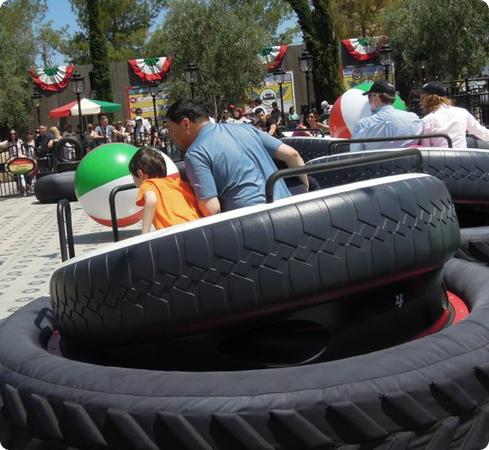 My husband (as often happens) got the hang of steering more quickly, but he said the ride feeling just wasn't magical and he never got going fast enough or far enough to really enjoy it, though the kids seemed to have fun.
I expect that Disney will tweak this ride until it's right, so if you're visiting Cars Land, I'd give it a try. It may not be the ride of your life, but floating like an air-hockey puck is an interesting experience.
Finally, I thought it would be fun to share some of the concept drawings for this ride. It's interesting that the handle that would spin the tires around didn't make the final cut.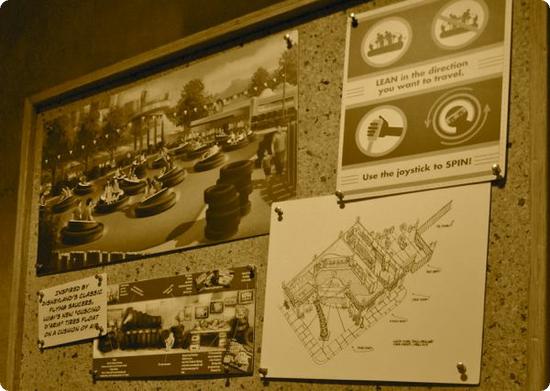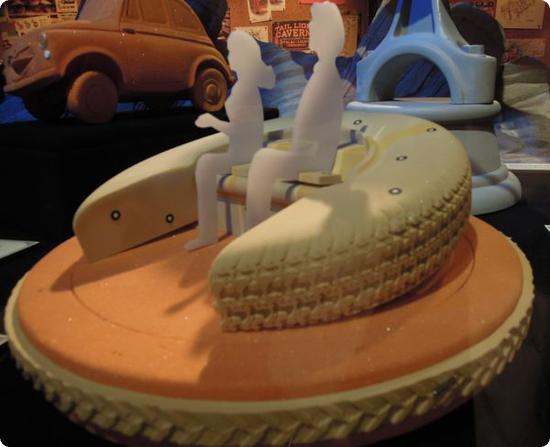 I hope you enjoyed this review of Luigi's Flying Tires. Next I'll show you Cars Land's E-ticket ride, the Radiator Springs Racers!
Related Links
Enter to Win Four California Adventure park passes so you can see Cars Land for yourself!
Orange County and Cars Land with Kids
Bravery at Disney's California Adventure
Cars Land's Route 66 in Pictures
Cars Land: Mater's Junkyard Jamboree Review
Cars Land Preview: A sneak peek before the Cars Land Grand Opening
Disney paid for my flight to Orange County, a hotel room at the Grand Californian Hotel, and gave my family advance admission to Disney's California Adventure so that we could check out all the new attractions that have been added over the past few years. They did not ask that I express that any particular point of view.
5 comments | Posted on June 28, 2012 |

Save to del.icio.us



Subscribe to our feed