I have written extensively in the past about breastfeeding or breastmilk pumping when you travel, but I've never written about what to pack if you intend to feed your baby expressed breastmilk or formula on your trip.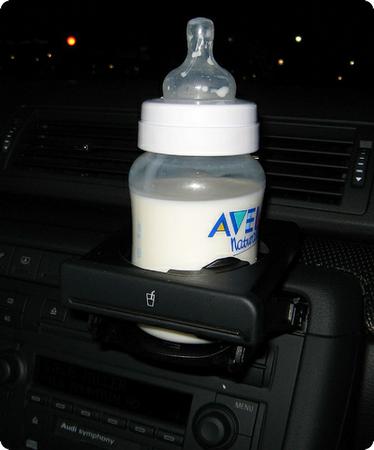 Traveling With Expressed Breastmilk
As of this writing, mothers are able to clear security in US airports with expressed breastmilk even if they are not traveling with their baby. You may also bring ice packs to keep the milk cool. The milk must be declared at the security checkpoint. Rules change frequently, and if you are concerned about this issue, it is worth reading the latest guidelines and printing out a copy to bring with you:
Bottles on a Plane or Road Trip
If you plan to feed your baby from a bottle in flight, you will need to bring the following items on board:
Enough clean bottles for your flight (I like Medela Breastmilk Storage and Feeding Set because the bottles are compact and because I can also use them with my Medela Breastpump. A bottle-liner system is also a good option if you don't mind waste. For older babies, Take and Toss Sippy Cups work well because they nest inside one another.
A way to clean your bottles (airplane water is not considered safe). I like Medela Quick Clean Wipes
Ice packs to keep expressed milk or formula cool. If there is space, a flight attendant will sometimes be willing to store your bottles in the galley, but make sure that your milk is clearly labeled and to make sure that it is stored properly. One one flight, a flight attendant stashed my expressed milk on a counter for a minute and another flight attendant "helpfully" heated it up. Baby E was asleep, so she'd just degraded the quality of 12 hard won ounces I'd prepared for the next bottle.
An insulated bag to store expressed breastmilk or prepared formula
Traveling With Formula
Formula It's easiest to travel with powdered formula, it's lighter than liquid formula and you don't need to declare it at the security checkpoint. Pack extra in case your flight is delayed or your checked baggage is lost. I like pre-measured individual formula packets
because they are less likely to spill than a large container, and because your bag will get smaller and lighter as baby drinks.
Water Bring your own water onboard. Airplane tap water is not safe for drinking, and bottled water supplies can be limited. Buy bottled water after security, or bring your own empty bottles and fill them once you've cleared security.
Related Links
Reader Questions: Nursing and Pumping on an Airplane
Finding a Quiet Place to Nurse or Pump at the Airport
Practical tips for Nursing and Pumping at the Airport
Practical Tips for Nursing and Pumping on an Airplane
Packing Checklist for Breastmilk Pumping When You Travel
15 comments | Posted on August 11, 2009 |

Save to del.icio.us



Subscribe to our feed