Visiting a new place is tricky - pack too much, and you're ready to swear off all vacations before you even reach the hotel, pack too little and you'll spend a big part of your vacation budget buying what you should have brought from home. So, what should you bring on a trip to Disney's new Aulani Resort in Hawaii (or any beach resort)? Here are my best tips.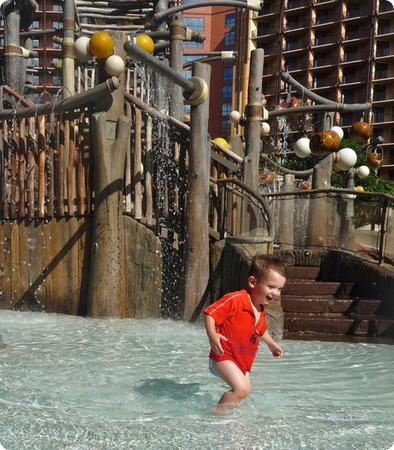 What Not to Pack
A travel crib The Aulani Resort provides a pack and play complete with a clean fitted sheet in each room. For other hotels, call ahead to find out whether the hotel provides a crib or pack and play. Most hotels don't provide a properly fitted sheet, leaving you to fold a king sized sheet to cover the mattress. If you'd like a (safer) snugly fitting sheet, you'll want to bring your own from home.
Fresh fruits or plants If you've brought along, for instance, a banana for your toddler to eat in flight, it's best to make sure he or she finishes it - that way you won't slow down your entry with trip to the Agricultural Inspection Counter guidelines for traveling from the US mainland to Hawaii. Manufactured products (i.e. a snack bar or commercial baby food) do not need to be declared.
What To Pack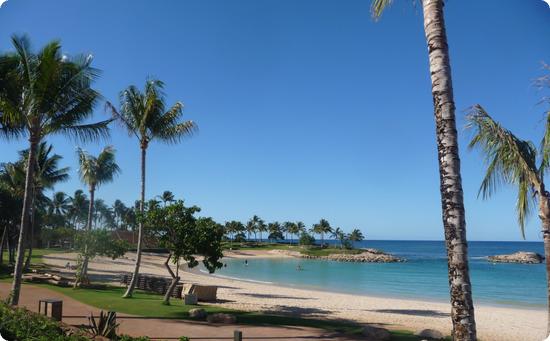 Shade for the beach. Beach umbrellas can be rented for $20 per day at Aulani, and would provide shade for the entire family. Still, if you are staying for several days or plan to use public beaches away from your hotel, it might be less expensive to bring along your own shade. The Pea Pod can be used as a toddler bed.
A baby raft would be nice for floating safely down Aulani's lazy river or floating in a deeper pool. Otherwise baby can wear a lifejacket and sit in your lap on one of the resort provided inner tubes. Here are two different styles that would work well: Baby Spring Float Sun Canopy or Intex Tropical Shade Float
Waterproof Shoes The poolside and beach can get hot for sensitive little feet. Bring a waterproof slip on shoe (not flip-flops which are a trip hazard for young kids). There are no escalators at Aulani, so Crocs or a water sports shoe would work well. Here are two choices that I like: Aquatik Aqua Water Shoes - Beach Shoes and Crocs

Disposable Sippy Cup
Eilan and I loved the easy to find ice water dispensers at Aulani! If your child needs a sippy cup, Take & Toss Spill Proof Cups are the easiest to transport and clean while you're traveling. I tossed one in my beach bag each day, and cleaned it out in my hotel room sink each night.
Plenty of Diapers and Swim Diapers Diapers are expensive at any resort, and you always run a risk that they'll be sold out of your child's size or brand. If you do run out, or need other baby gear, Toys R Us is about 20 minutes away in Aiea.
Favorite non-perishable snacks A small convenience store in Aulani's lobby, and a somewhat larger convenience store across the street stock fresh fruit, milk, and popular snack items. However, if your child has a favorite snack, you prefer organics, or if you want to avoid higher Hawaiian prices, it's a good idea to bring snack foods from home.
Beach Shovels and an inflatable Beach Ball Aulani does not have beach shovels, buckets, or other beach items to borrow. They are available for purchase, but you'll save a lot of money by reusing your gear from a previous trip. Don't have these items? Here's the durable set that we own: Kidoozi Castle Bucket Set and here's a cool set made from recycled plastic milk containers Green Toys Sand Play Set
A Few Quiet Toys The time in Hawaii is 3 hours earlier than the west coast, meaning that when your child wakes up at 7am west coast time, it will be *gasp* 4am Hawaii time. You'll need a few quiet toys that he or she can play with in your room until the pool opens at 8. Need ideas? Check out my favorite travel toys for every age

Want more information about what to pack for a beach vacation? Read my post on Sun Protection for your little traveler
Optional Items
Your suitcase is probably heavy enough already, but here are a couple of fun ideas that you might want to include.
Glow Light Stick Bracelets are fun for a nighttime trip to the beach or pool.
Eilan loved dressing up in his Mickey Mouse costume and roaming the resort. If your child has a special Disney costume, and you have room in your bag, they'll probably enjoy wearing it in the evenings after things cool down.
Related Links
Packing lists for travel with kids
Sun Protection for your little traveler
Favorite Travel Toys
Other Aulani Stories on DeliciousBaby
Your Questions about Aulani Resort Answered
What to do at Aulani Resort with a Toddler
Honolulu and Greater Oahu with Kids (City Guide)
Aulani Resort in Pictures (Part 1)
Aulani Resort in Pictures (Part 2)
The Littlest Mouse (Part 1: At Home)

The LIttlest Mouse (Part 2: Aulani Resort)
Reader Question:What did I miss? What do you bring on a beach vacation with kids?
Disclosure: Making a purchase using one of the Amazon links on this site doesn't cost you more, and I receive a small commission from each purchase. Those commissions help me keep this site going.
1 comment | Posted on October 18, 2011 |

Save to del.icio.us



Subscribe to our feed