I got more questions from readers and friends from this trip Disney's new Aulani Resort on Oahu than I have for any other trip. This is a new type of Disney experience, so it makes sense that we'd all be curious exactly how things work. Here are the most popular questions and answers.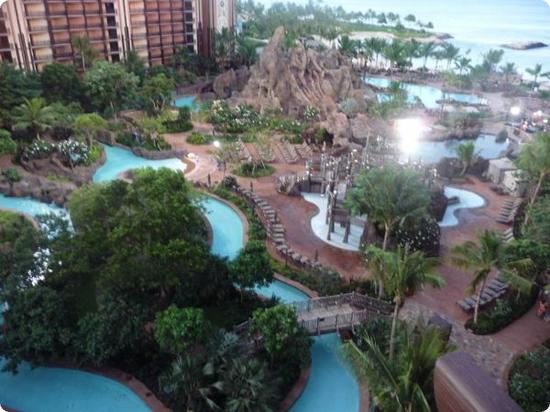 How much does it cost to stay at Aulani Resort
There's no doubt that a trip to Aulani resort is a real splurge. Rooms without a beach/water view begin at $400 per night for a standard room with two queen sized beds. Here's what typical expenses might look like for a family of four (with kids over age 3) staying four nights:
Typical Costs
Standard Room (parking lot view) + Taxes: $1,818.84
Airport Transportation in a Taxi 2 ways (does not include carseats): $160
Rental Car + Gas for one day: $100
Character Breakfast for 2 adults and 2 kids: $100
50 minute massage for one parent: $160
Snorkeling in Rainbow Reef for 2 kids: $40
Continental breakfasts for 4 x 3 days: $100
Poolside lunch from One Paddle Two Paddle for 4 x 4 days: $168
One night dinner for two at 'Ama 'Ama (with 2 kids at $26): $150
Dinner for two kids from One Paddle Two Paddle $15
Dinners for 3 nights at Off the Hook: $225
Sodas, Juice and Snacks from Island Country Market across the street: $30
Childcare at Auntie's Beach House: Free
Starlight Hui, Evening Movies, Character Experiences: Free
Total Cost for a family of four staying 4 nights: $3066
What didn't I include? Airfare. Taxes. Cabana or Beach Umbrella Rentals. Outside excursions or experiences. Drinks. Snacks. Tips. Souvenirs.
Here are more tips for creating a budget for your family vacation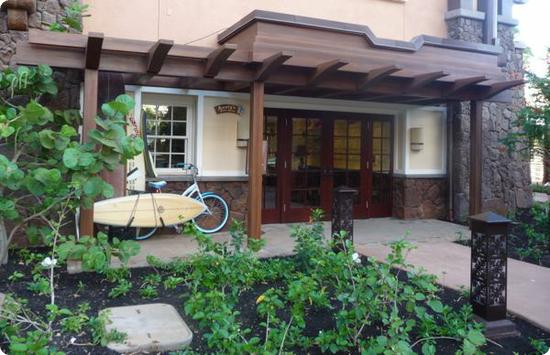 How Can I Save Money at Aulani Resort?

Bring your own snorkel gear and snorkel in the lagoon
Eat your breakfast in the room and enjoy a self catered lunch from Island Country Market across the street (all rooms include a small refrigerator and a coffee maker and teapot that you can use to heat water for oatmeal or morning coffee). Want a view? There's no reason you can't enjoy your meal at one of Aulani's poolside tables or on your balcony.
Aulani's late checkout facilities include lockers and showers for guests with late flights. If you have an early morning flight, consider spending a full day at the resort the day before you fly, using the lockers to stow your gear, and spend the last night at an airport hotel that has an airport shuttle
Use an airport shuttle instead of driving a rental car from the airport. When you rent at the airport, rental car rates are about $100/day for a compact car. Parking at Aulani is and additional $35/night. Instead of renting a car for your entire stay, take a taxi to the hotel and back (about $80 each way). If you'd like to take a daytrip, rent a car at Aulani, where the lack of airport taxes reduces the cost of a rental car by about $30/day. When you're completely done with the car, just return it to the valet and have them park it in Alamo's lot to avoid paying overnight parking fees.
Splurge on a spa day pass ($45) instead of massage or expensive treatment
Don't order dessert with your meal. Instead, enjoy poolside shave Ice as an afternoon snack ($3.75 poolside)
There are so many opportunities to meet Disney characters at Aunties Beach House and throughout the resort that you could forgo the character breakfast without too much drama.
Splurging on a fancy meal? Try lunch instead of dinner when prices are a bit cheaper.
Take full advantage of the included entertainment. With character meetings, dance parties, movie nights, the starlight HUI, some crafts and cultural activities included free of charge, it's unlikely anyone would get bored using only the included activities
If you plan to explore the island, consider making full use of the Aulani Resort for several days, and then using a less expensive hotel as your home base while you sightsee.
Be sure to bring everything you might need with you. Buying specialty items in Hawaii is a sure-fire budget breaker, and beach toys and snorkel gear are not included in the resort cost. Other items, like diapers or specialized snacks cost significantly more in Hawaii (and double that in resort areas) than they do on the mainland.

Here are more ideas for saving money on a Hawaiian Vacation


Are Meals included at Aulani Resort?
No. Meals are not included at Aulani Resort. To save money on meals, one option is to purchase groceries across the street at the Island Country Market. While there is no microwave in the room, there is a teapot and a coffeepot, meaning that you can heat water for oatmeal or noodle soup.

How can I get from Honolulu Airport (HNL) to Aulani
Aulani does not currently run a shuttle service from the airport to the Aulani Resort. A taxi from the airport to Aulani would typically be the most cost effective transportation for a family of four, and costs about $80

Can I visit Aulani Resort if I am not a Hotel Guest? Can I buy an Aulani Resort Day Pass or a pool day pass?
You can visit Aulani even if you are not a hotel guest. Parking can be validated for four hours or less when you spend $35 or more at the resort. As a non-guest, you won't be able to use the pools (hotel guests are required to wear a wristband to use the pool), nor will your kids be able to visit Auntie's Beach House (even for a fee). There is currently no option to buy a day pass that would give you access to Aulani's facilities without being a hotel guest.

How much does it cost to park at Aulani Resort
It costs $35 for hotel guests to park at Aulani Resort. Disney Vacation Club Members receive complimentary parking.

Do Ko Olina Beach Club members get any special privileges or rates at Aulani Resort
Nope, but you can walk over or take the Ko Olia shuttle and enjoy the resort instead of paying the parking charge.

What Can I do at Aulani if I am not a resort guest
As a non guest, you'll be able to enjoy the resort grounds, including the beach. You can eat at any of the resort restaurants, and a Character Breakfast might be particularly fun. Be sure to pick up the "Daily Iwa" (Aulani's daily activities schedule and newsletter) at the reception desk to find out about "Disney Friends Meet and Greets," shows, and other free activities that are happening during your visit. If you will be visiting Aulani without kids, I'd strongly recommend scheduling a spa treatment as this is one of the loveliest spas I've ever seen.

Is the Aulani Resort wild with color, characters, and sound effects like Disneyland and Disneyworld?
Aulani is a much more muted experience than the Disneyland Resorts and the company worked hard to bring Hawaiian elements to center stage, with the Disney characters taking a backseat. Still, this is Hawaii infused with the whimsey and sense of discovery that you're used to at the Disney Parks.

Does Aulani have a Kids Club? Yes, "Auntie's Beach House is Aulani's Kids Club. Auntie's is available free of charge to resort guests at 3+ who are potty trained. Kids may stay for up to 12 hours per day, and the childcare closes at 11pm. Children under age 3 may visit Auntie's Beach House if a parent stays with them. At this writing, there is no childcare available for children under age 3, and parents may arrange to have an outside sitter provide in-room care.

What can adults do Aulani?
For me, a trip to Aulani would be for the purpose of enjoying it with my kids. That said, I talked with several adults who were staying at the resort without kids and enjoying it immensely. Here are a few of the activities that adults can enjoy at Aulani.

The Laniwai spa, with it's outdoor massage tables, rain water showers, and hydrotherapy garden and spacious lounges is one of the most stunning spas I've ever seen. If I weren't staying here, I'd be tempted to sneak over for a visit.
Daily exercise classes (some at additional cost) are also available. Some take advantage of Aulani's beach or poolside.
Tucked away from the hustle and bustle of the main pool, you'll also find Aulani's quiet pool - secluded and shady it's an ideal place to hide away.
The nighttime Starlight Hui is a must for any age
Disney works with established local tour operators and their own guides to provide high quality excursions around the island.
Check out the craft and storytelling program in the Pau Hana room. Activities like the making of intricate Lei Hulu (feather lei) are designed to scale well from young guests to older guests.

Are there rides at Aulani?
Nope. Not unless you're planning to give someone a piggy back ride.

Was the Weather Warm?
Admittedly this question came from my Seattle questions. Over, and over and over. When you live somewhere that barely manages to get warm in summertime, it's hard to imagine that anyplace else is warm in fall. The temperature during our September stay was in the 80's. Just warm enough that you need to drink extra water, but not so warm as to keep you from being active. Here's a link to historical weather charts for Honolulu in general, temperatures rarely get much over 90 degrees, and nighttime temperatures are often above 70, but rarely below 60 degrees.

Does Aulani provide an "authentic" Hawaiian experience
This is a tricky question to answer. Aulani doesn't at all feel like a theme park transported to Hawaii, and the energy that Disney spent engaging local artists in the design and decor shows through in a big way. This is the only big Hawaiian resort I have stayed at where the Hawaiian influence runs deeper than the wallpaper, but still, it's not as if you'll have an unchoreographed locals experience here.

Beyond the decor, I appreciated the effort that went into providing educational opportunities about Hawaiian history, folklore, and culture for both kids and adults. Hotel staff clearly take personal pride in explaining the stories behind the brilliantly colored murals in the hotel entrance and the Makahiki Restaurant. The resort's Pau Hana Room is dedicated to teaching Hawaiian Culture. I particularly liked the fact that many of the craft activities would scale well for whole families to do them together.

Is Aulani close to Honolulu
Aulani Resort is about 20 min from Honolulu airport, and about 30 minutes from Waikiki (though the drive can take as much as an hour with traffic). The relaxed North Shore, with it's famous surf towns and shave ice is about 30 minutes away. You'll also have access to the other parts of the Ko Olina resort, including Roy's restaurant, a small shopping center, and the Ko Olina Golf Course. That said, this is an area created for tourism and is a bit isolated from the areas that locals would normally frequent.

Is Aulani quiet
From our soundproofed room on the 9th floor, with the doors closed, we did not hear noise from the pool or our neighbors. Aulani isn't the sort of hotel where you would leave your door open to hear the sound of the surf at night, but if you're worried about hearing the type of noise that you might experience if you were sleeping above Disneyland, know that even the daytime sounds are muted and that things really quiet down after dark. There are no fireworks or other loud noises, and outdoor shows, like the Starlight Hui are situated away from hotel rooms.

Will my kids put up a fight if I try to make them leave the hotel and explore other parts of the island.

Probably. But you should do it anyway, Oahu is beyond lovely.

Readers: As your questions about Aulani in Comments and I'll do my best to answer them
Related Links
What to do at Aulani Resort with a Toddler
Honolulu and Greater Oahu with Kids (City Guide)
Aulani Resort in Pictures (Part 1)
Aulani Resort in Pictures (Part 2)
The Littlest Mouse (Part 1: At Home)
The LIttlest Mouse (Part 2: Aulani Resort)


I was an invited guest on this trip, and Disney paid for most of my expenses, including our hotel stay, most meals, and my airfare. Disney did not request that I express any particular point of view, and my opinions are my own.

37 comments | Posted on October 4, 2011 | Save to del.icio.us



Subscribe to our feed