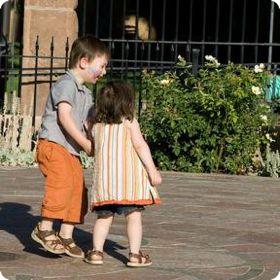 Even the bright Santa Fe sun, streaming in through a crack in the blackout drapes couldn't wake us up on this, our first full day in Santa Fe. When we finally did awake, we feasted on banana bread and fresh fruit picked up at a grocery store the night before. (E's already picky eating gets even more difficult when we travel, so we like to make sure that we start the day with some favorite foods). We also want both kids well fed, and not cranky, because today is the day we visit the Georgia O'Keefe museum.
Regular readers will remember that I asked for advice on how to make our museum visits with the kids more fun. There were some fantastic suggestions, and I finally settled on showing the kids some pictures by O'Keefe online, and then leafing through a coffee table book at our first hotel together. The kids showed only marginal interest, but I hoped O'Keefe's new celebrity in our family might carry us through a few galleries.
When we arrived at the museum, I took both kids to the museum shop to buy postcards. I thought we'd try to match them with the artworks in the galleries for a quaint little "scavenger hunt." The kids had absolutely no idea what I was talking about, so instead of choosing two postcards each they chose 4 pictures of the same painting! With some coaxing, we walked out with 4 different postcards, and also a set of crayons and a pad of paper. There are times to put your foot down about new toys... and then there's times to recognize that you don't need a meltdown in the lobby.
Before we entered, the museum staff lent us an excellent children's book about Georgia O'Keefe's life. Many children's books about artists don't seem to be written by children's authors. Those books too focused on showing the exact artworks, recounting autobiographical details, or explaining what the artist is known for. My Name Is Georgia: A Portrait by Jeanette Winter
was a welcome change. Details E could relate to, like Georgia painting the same picture over and over and over, or sleeping under the stars to paint the morning sun created an engaging story line. The book built on themes he could understand, like wanting do do things differently from other people. The underlying messages, like seeking out "the faraway," and choosing to do something you love,... and then doing it over, and over, and over resonated with me too. I have never seen E so engrossed in a new book on the first read, and before we left the museum, I had one more giftshop purchase in my overloaded bag.
E was thrilled with the museum too, sitting quietly with me to watch a movie about Georgia O'Keefe and Ansel Adams (the special exhibit during our visit) and then cuddling up in his father's arms as daddy walked slowly through the museum. From time to time, he asked about a painting or pointed out something that interested, but more than anything else, he just seemed content.
Does that all sound too perfect? The glimpses I caught of my son enjoying the art felt great, but they were counterbalanced by the need to rush through the museum as quickly as I could with poor D who has certainly mastered the phrase "I wanna go out." My desperate attempts to interest her in the paintings failed, except for the occasional Ansel Adams photo that included a moon or a building. Little D is an outside girl(and who wouldn't want to enjoy the warm morning and the new scenery). Sometimes with a 21 month in tow, the timing just isn't right and there's nothing you can do.
And the scavenger hunt? A bust... none of the pictures we selected were on display in the museum at the time of our visit. Next time I'll ask the staff to help me select the postcards instead letting the kids choose.
The rest of the day was wonderful, and more kid focused. We revisited the labyrinth E had loved so much the night before and then headed to lunch at a crowded local favorite, The Shed. D seems born to devour New Mexican food. The beans, the guacamole, and some chicken taken from an enchilada all elicited squeals. The professional critics agree with her, The Shed has been written up in Gourmet Magazine and won a coveted James Beard award for their traditional New Mexican food. Perhaps she isn't so much against art museums as she was for a meal outdoors in a shaded courtyard.
We allow some time in each day for the kids to run freely, and today we headed to the Santa Fe's Children's Museum. The museum is a bit out of the center of town, and with D about to drift off to sleep, we drove a bit further, past the adobe "suburbs" and into the calm dry ranch land. Then we returned to the Museum, where both indoor and outdoor play spaces greeted a very-ready-to-run E. The museum itself was smallish, but took advantage of a huge shaded garden by building in lots of outdoor activities. E gravitated towards a waterplay area where a huge hand pump let him force water into a series of ramps. As the water worked its way down the ramps, other kids played with it too. He also loved an indoor climbing gym, the craft area, and the play kitchen in the toddler area.
When D finally woke up, she gravitated towards the face painting, and I painted her first "tatoo..." a butterfly on her cheek. E, normally so reticent to dress up that we put him in green sweatpants last Halloween and declared him a "frog," watched with skepticism as I painted. After carefully considering the completed product, and ran off to do something else. I figured that was the final verdict. But when he returned a few minutes later, I asked him if he wanted to paint his face too. "Ok," he said (as if the idea was all mine), and he chose a butterfly in his own favorite colors, green and orange. Within minutes, he was back at the table, experimenting with the paints, and 20 minutes later he was one of those kids. The kid with wild swirls and blotches all over his face instead of a simple and tastefully crafted design. A breakthrough... I couldn't have been more delighted!
Is face painting the reason we travel with our kids? Did we come all the way to Santa Fe to splash in some water and discover color? No... and Yes. There is something about getting out of your home, out of your everyday experience, and out of your routine that leaves you open to new experiences. I think that's just as true for kids as it is for adults. Is an expensive road trip the only way we can achieve that? Of course not, sometimes it is the only way I can slow myself down enough to notice and appreciate those moments.
The rest of the evening was routine. We had a simple dinner & picked up some snacks for the next day. We returned to the Labyrinth, by now one of E's favorite spots in the world, for one last run. Exhausted, we decided to give ourselves a break. Instead of returning to the hotel, we took a long sunset drive out of town and let the kids fall asleep in the car. That time was priceless too, because the one thing that's toughest for us at home, or on vacation is how little time my husband and I end up with to enjoy a one another.
Other Blog Entries About This Trip
New Mexico With Kids: Why Here?
First Day in Albuquerque with Kids
Road to Santa Fe With Kids
Santa Fe's Georgia O'Keefe Museum with Kids
Santa Fe Mission and Spanish Colonial Art Museum With Kids
Santa Fe and Taos With Kids
Visiting Taos Pueblo With Kids
Kid Friendly City Guides
Taos With Kids
Santa Fe With Kids
Albuquerque With Kids
Related Links
Amazon:
My Name Is Georgia: A Portrait by Jeanette Winter
Planning A Family Vacation
3 comments | Posted on August 18, 2008 |

Save to del.icio.us



Subscribe to our feed