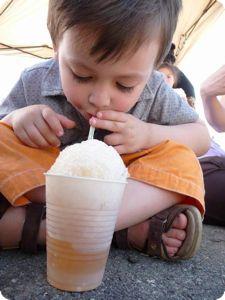 Santa Fe is home to some of the oldest (still remaining) buildings in the country. We began our day at one of them, the San Miguel Mission. Built between 1610 and and 1628, the mission is considered to be the oldest church in the United States, and still holds a weekly mass. The kids didn't understand any of that, of course, but they always seem to enjoy churches, and this one was no exception. The adobe building must have provided a cool respite from the heat of Santa Fe summers back in the days before air conditioning. What now feels like a cozy space must have felt huge back in the 1600's. Something about the whitewashed adobe interior and the wooden beams made the space wonderfully homey, a welcome contrast to the ornate altarpiece and decorations. An interesting display gave information about the history of the church, and glass panels in the floor of the alter provide a view of its older subfloors.
As we walked past the "oldest house in the country," (now home to a gift shop) E was particularly fascinated with the straw-heavy adobe. After a couple of days in Santa Fe, he has become so interested in Adobe walls that he asks us what almost every building is made of, and he'll often get up close to an interesting looking building to inspect the mud/straw base.
The day was heating up already, and everyone was in need of a snack, so we walked over to the Santa Fe Farmer's Market. I always enjoy weekly markets because they bring out locals even in heavily touristed cities like Santa Fe. Small producers make them great place to sample fresh produce and dishes that are closer to what people eat in their own homes than the usual restaurant fare. This market was no exception. I never thought of New Mexico as an apple growing region, but we saw basket after basket of apples, usually varieties we had never heard of before, and we bought a few small bags to sample. My favorite was the crisp and tart-sweet "translucent." One clever vendor was even selling shave ice with freshly made apple cider taking the place of artificially flavored syrup. We couldn't pass by without buying a few cups, and then we sat in the shade of the vendor's tent and tried to talk with her Spanish speaking children. Chilies were everywhere too, with vendors selling fresh chilies, chili art, and freshly roasted chilies to-go. Fantastic pastries, local cheeses and even a few prepared dishes rounded out the market. As we snacked our way through the market, musicians played huge standing xylophones in the background.
With a good lunch under our belts, and D ready to go to sleep, we decided to visit the Museum of Spanish Colonial Art. A bit out of town, the museum showcases artifacts from Spanish Colonial times along with traditional artforms like straw-art and tinwork. While my husband sat in the car with our sleeping daughter, E and I had some rare mom-and-son time. Once again, he was fascinated with the artifacts and was willing to explore slowly enough that I even got to read a few signs (a rare treat for a mom with two kids under four) and explain what we were seeing to him.
Midway through the circuit, we found a sweet little children's area tucked away in the back. Dress up clothes, books, puzzles, art project, traditional Spanish Colonial artworks made by local kids made the space warm and inviting. E sorted through the books and found a great one about Spanish Colonial artwork. Each page showed a picture of one artwork (for example a wood carving) along with detailed pictures of a child making the item. As we read, we looked around the room at the high-quality artwork made by local children and related it to what we saw in the book. E was fascinated. It is always hard to understand what's going on in his head, but I think he is starting to understand artwork as something made by a person rather than something that just hangs on a wall as decoration. (As I'm typing this on the evening of our visit, he just sat up in bed & said "that one is art" and went back to sleep... clearly he's doing some deep thinking on this subject!)
Once D woke up, we returned to the nearby Santa Fe Children's Museum where the kids revisited their favorite exhibits from yesterday and branched out to a few new exhibits too. Once again, E was covered in face paint by the time we left.
Dinner, Mexican food at the casual Bumble Bees Baja Grill was one of our most successful meals yet. Fresh squeezed watermelon juice was the perfect antidote to the hot weather, and both kids loved the tacos and cilantro-lime rice. I tried something new, a tender and savory lamb taco along with fresh salsa and guacamole. Service was fast, and we feasted on chips and a selection of salsas while we waited for our food. The kids loved the decoration, a swarm of bumblebee piñatas dangling from the ceiling.
After dinner, we let the kids run off their steam in the (finally cooling) fresh air back at E's labyrinth. As the sun set, D asked us fireworks, just as she's done every evening on this trip. Her memory of the fireworks on our Fourth of July Trip to Portland is so vivid that she just cannot let go of the idea that there might be fireworks in any new place we visit.
Other Blog Entries About This Trip
New Mexico With Kids: Why Here?
First Day in Albuquerque with Kids
Road to Santa Fe With Kids
Santa Fe's Georgia O'Keefe Museum with Kids
Santa Fe Mission and Spanish Colonial Art Museum With Kids
Santa Fe and Taos With Kids
Visiting Taos Pueblo With Kids
Kid Friendly City Guides
Taos With Kids
Santa Fe With Kids
Albuquerque With Kids
Related Links
Planning A Family Vacation
0 comments | Posted on August 19, 2008 |

Save to del.icio.us



Subscribe to our feed