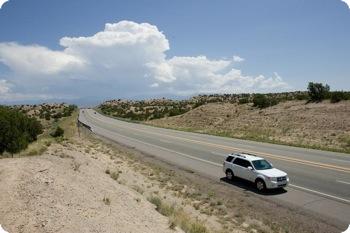 When we planned this trip, we thought that the kids' tolerance for museums would lessen as the trip wore on. In reality, they've gotten better and better at finding ways to have fun in the museums while we've gotten increasingly burned out. Still, our tour through Santa Fe's Palace of the Governors was interesting and informative. We learned more about the history of this region and its role in trade with the West Coast. The kids enjoyed the various artifacts, but what really fascinated them were the trap doors in the floor and the hobby horses the staff gave them to "ride" through the frontier history exhibits.
The Santa Fe's plaza hosted art or music events during every day of our visit, and today we were particularly happy to see food stands set up along the edge of the Plaza. With the drive from Santa Fe to Taos ahead of us, the last thing we wanted to do was coop the kids up at a restaurant table. I'm a fan of food stands too... once you look past the hot dog stands and burgers, there is often an opportunity to try good local food that's less fussy than restaurant fare. Today was no different, after picking up a couple of those hot dogs for the kids I bought a greasy, spicy and delicious chicharrones burrito for myself. We all sat on a bench at the edge of the Plaza and watched people walk by as we feasted on our impromptu meal.
After lunch, we were off for one last run through the Labyrinth at St Francis Cathedral and into the car. E cried knowing that we were leaving Santa Fe and wouldn't be back any time soon. This was the first time we've seen such an emotional response from him. Usually he's just in each trip for the adventure, and happy just to be out and about, but he's starting to really connect with each of the places we visit, and he's starting to realize that each place has its own special features that cannot be found anywhere else. The two of us had a long (and mostly one sided) discussion in the car about how travel is wonderful because we get to experience so many new things, but also difficult because it is so hard to let go of each one. We talked about how we'll keep re-experiencing the trip through our our memories, stories, pictures and videos... and that idea seemed to really make sense to him.
The ride from Santa Fe to Taos was predictably beautiful, but what continues to surprise me is how living and vibrant this desert is. The landscape is dotted with low greenery and the occasional tree, and every time we leave the car we see small animals running at the roadside. It's a far cry from the New Mexico I pictured after watching movies about Los Alamos Labs in which military vehicles stream across a dusty, dry and desolate desert.
Despite our feelings about the bomb itself, my husband and I have always been fascinated by the group of scientists that gathered at Los Alamos to work on the first Nuclear Bomb. (A funny and fascinating book about this time is Richard Feynman's Surely You're Joking, Mr. Feynman! (Adventures of a Curious Character)
) My husband decided it would be interesting to detour to Los Alamos, so he and E stopped in at Los Alamos National Labs - Bradbury Science Museum while D napped in the car (and I did some reading). E enjoyed the break, and had fun in the science museum, though P said that the museum was a little too propaganda-heavy for his liking.
As we hit the edge of Taos about an hour before dinnertime, I realized that heading straight to the hotel would mean forgoing any kids activities until after dinner. We did a quick re-direct, and headed to Twirl, a local toystore with a huge outdoor play area. We have such wonderful independent toy stores in Seattle that I'm difficult to impress when we travel, but Twirl knocked my socks off. The outdoor playspace was so engaging that I never did convince D to go into the toy store with me. Instead, she played in a kid-sized stream, climbed and bounced on a huge climbing structure, played in a treehouse, dug in the sand and banged on a huge xylophone. P and I sat in the shade and relaxed, and I used Taos Plaza's free wifi to catch up on work. On weekdays, there's a kid friendly snack bar too, serving healthy snacks like baby carrots, apples, granola bars and more. The toy store specializes in toys, games, puzzles and crafts that you won't find in "big-box" toy stores like Toys-R-Us. Every item is hand selected, and I saw lots of my favorite brands (like Playmobil) alongside handmade clothing and toys from local crafters. Twirl was a fantastic find, and we were happy to make the $2 recommended "donation" to keep the playspace going.
We had dinner at Orlando's a popular local restaurant featuring classic New Mexican dishes. The kids loved the graveled outdoor patio, and sat (reasonably) quietly watching the other diners and snacking on chips and guacamole while we waited for our food. The "Frito Pie" (a local specialty) begged to be ordered, so I gave it a try. That makes two non-heart-healthy dishes in a single day, but after-all I'm on vacation. Frito Pie is a casserole-like dish made with chili, fresh tomatoes, and of course a hearty topping of crunchy Fritos. Orlando's rendition was hearty and satisfying, but the fresh tomatoes and onions made it light enough for even a hot day.
Finally satisfied that our day was complete, we checked in at our hotel, the El Monte Sagrado. When I booked the Monte Sagrado, a bargain rate, and difficulty finding rooms at my other top choices lured me into an end-of-vacation splurge. The Monte Sagrado isn't just the nicest hotel in town, it's meant to be a destination resort, an effort that seems somewhat successful. The lush grounds, complete with toddler-enticing waterfalls and fish ponds weren't enough to keep us in the hotel all day, but they did provide a welcome retreat for D's midday nap the next day. We found ourselves lounging around longer in the mornings and returning a little earlier in the evening too. Our room was spacious and we liked the hip-upscale interpretation of New Mexican decor (each room is decorated around a theme). The quiet and seclusion did us all some good, and P and I loved this little bit of luxury at the end of our trip.
Other Blog Entries About This Trip
New Mexico With Kids: Why Here?
First Day in Albuquerque with Kids
Road to Santa Fe With Kids
Santa Fe's Georgia O'Keefe Museum with Kids
Santa Fe Mission and Spanish Colonial Art Museum With Kids
Santa Fe and Taos With Kids
Visiting Taos Pueblo With Kids
Kid Friendly City Guides
Taos With Kids
Santa Fe With Kids
Albuquerque With Kids
Related Links
Planning A Family Vacation
0 comments | Posted on August 24, 2008 |

Save to del.icio.us



Subscribe to our feed